A Restrictive Covenant is: "a covenant restricting the use of land so that the value and enjoyment of adjoining land will be preserved."
Covenants are conditions/restrictions that go above your usual Land Use Bylaw and are attached to the Land Title of a property. They are regulated provincially. This means that even if a piece of property is sold or altered significantly, the Restrictive Covenant still applies.
Old James Carruthers was a farmer and grain exporter. Carruthers and his family and friends lived and used the land he owned west of Edmonton in the late 1800s early 1900s. You may know these lands today as Old Glenora. Here's a map showing you the boundaries of the area affected by the Caveat.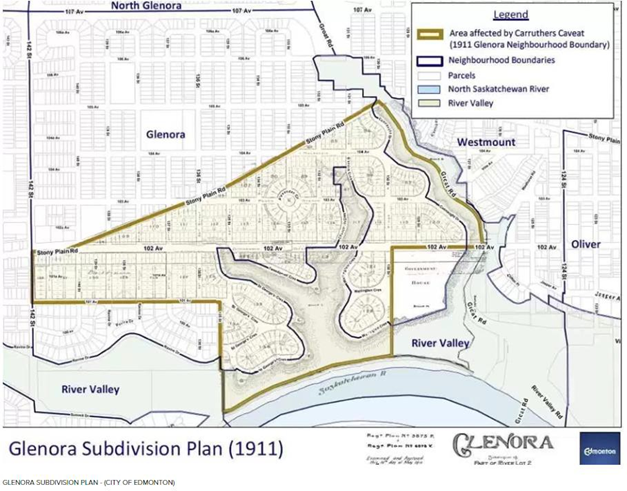 With the building of the Groat Road bridge, he could now sell his land to the City of Edmonton. He only wanted single family homes and wide expansive lots. Here are some things that form part of the Caveat:
"No building or any kind other than a private dwelling house […] shall be erected upon the said land, and no trade or business of any kind shall be carried on upon the said land, and no part of the said land […] shall be used as a place of public entertainment, amusement, or resort." [In other words, houses ONLY!]
Houses made must cost at minimum either $3000, $4000, or $5000 depending on where they (A good chunk of money to spend on a house back then… and that is just the minimum!)
No temporary buildings of any kind shall at any time be erected.
This caveat does not allow the community of Glenora to change. If you are a Glenora resident who would like to add a Garden Suite for your grandmother or a Basement Suite for a little bit of extra income, good luck – because you are probably going to be subject to the Alberta Court of Appeal because the Caveat is still in effect today.
Restrictive Covenants provide no leniency or second glance once they are attached to a Land Title. They can effectively "sterilize" the property and keep it stuck in time.
The REALTORS® Association of Edmonton will be adding the value "Caveat on Title" under the Restrictions category on the Association's MLS® System. This will ensure that members can place that value on their listings if their property has the Carruthers Caveat or any others that exist in other areas of the City or other Jurisdictions.
The RAE recommends that any member who has a listing that has this Caveat go in and adjust their listing to reflect the correct information. It may be prudent to also add a brief comment in the private remarks section. It is very important to always check your Land Title to ensure that any Restrictive Covenants on the title are investigated to ensure that your Buyer is not ending up with a property that is restricted in its future use.
**Source: Society, Geography and Planning Students. "What the Heck Is a Restrictive Covenant?" GAPSS. GAPSS, 14 Mar. 2018. Web. 24 June 2021.**