Similar to Multi-Tasking, you can also Multi-Search per Class without looking at any of your results between searches. No more wasted time when a customers' request makes you choose between searches while on Paragon.
Here's how:
To follow this example, use the RESIDENTIAL class for searching home listings. All Classes can do Multi-Searches. The next picture is a search screen with criteria.

We click Search and get the results on our screen in a spreadsheet.

The scenario might be something like this: You do a listing search for a customer and have some results back as we have just done when another customer calls you and while on the phone need some answers. So, you have to do another RESIDENTIAL search to help the customer on the phone with immediate needs. What do you do and not lose your previous work?
Without closing or losing the work, you are currently doing; you can open a new RESIDENTIAL search in the same tab. In the area just under the RESIDENTIAL tab is a subtab of your criteria and results report with the listing count. Click the Plus Sign in the green box.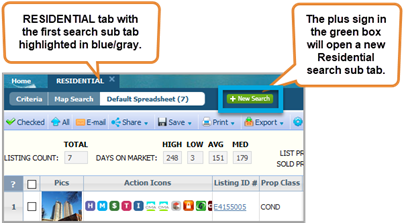 Now a second Residential search has opened to the criteria template. It loads your criteria from your first search if you have your preferences set that way. However, you can change the criteria to match the second customer's request. This search works completely independently of the first search. You have all the same tools you need to serve this customer.

From here you can click Search to get the results of your second criteria search. You can look at these results in any report, select the ones you want to email/print everything you need to do for this customer is here.
Also, you probably notice that there is another plus sign in the green box available. You could do a third Residential Search with different criteria and get results. Each class search is limited to 3 sub-searches. However, you could do a Multi-class search tab and get 3 more searches.
Each subtab search is highlighted in the blue/gray background when you are on that search or results. It is how you can tell which search template or results you see on your screen at that time. Also, you see the name of the report you are on.
Click the x in the sub-tab itself, to close the search and results. You can move between the searches, criteria or results by clicking on any of the sub-tabs.