On the Search Criteria screen, you can have multiple containers for searchable fields. By default, it is set to have three different containers Primary Criteria, Secondary Criteria and Advance Criteria. The container names can be changed and do not need to be used at all.
Containers are a great way to group common fields that you don't always have to have them display on the screen, but are there if you need them.
You can open containers by clicking on the arrows at the end of the container, or you can click Open All / Close All in the action bar.

For example, you could add a Container to the Residential Default Search and rename it, 'Condo'. That way, this container could hold all the condo related fields, so that when you need to search for a condo, it is easy to access and you don't have to add the fields every time or open a saved search. The bonus is that it doesn't keep your regular search screen so full of fields that the other items get easily lost.
Step 1: The first thing we need to do is add a new container to the Residential Default search. Click on Search, then Residential to open the default search.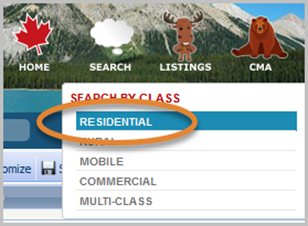 Step 2: Hover over Customize, then click Containers.

Step 3: Select the section Secondary Criteria and rename it to Condo Fields. Choose if you want this container to be open when you first open the search or closed. Then click Apply.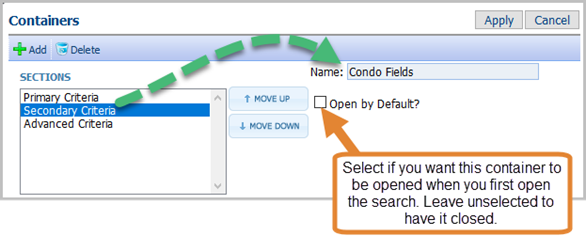 NOTE: The container does not display until it contains fields
Step 4: Hover over Customize, then click Fields to add the condo fields to the new Condo Fields container.

Step 5: Locate the Condo Name field under Selected Fields and double-click it to from the Primary Criteria Container. A field can only be in one container.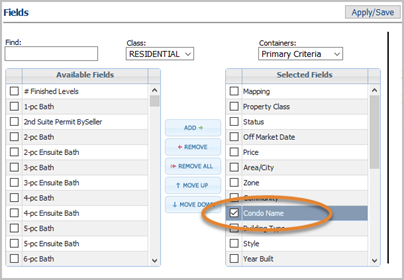 Step 6: Click on the Containers dropdown and select Condo Fields.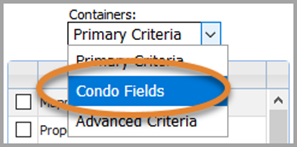 Step 7: Using the Find box, search for the Condo Fields you want in the search and add to the selected fields.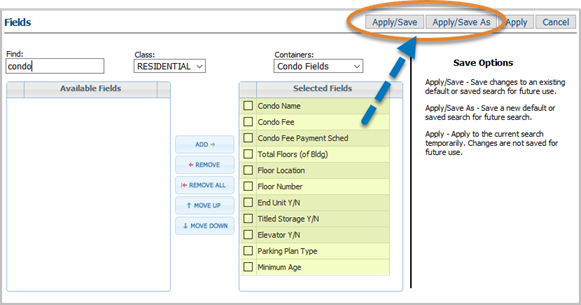 Step 8: After adding the fields, click Apply/Save As to save this as a new search template or Apply/Save to save to your Residential Default Search.
The container now displays below the Primary Criteria Container. Click the Arrow (insert icon) on the container to open or close it.