The following Technical FAQ will show you the 5 things you need to do to successfully attend the virtual Meeting.
1. Member Portal Registration
To register for the meeting, go to the Member Portal. Immediately after registering you will receive an email receipt for the event, as shown below, from info@therae.com.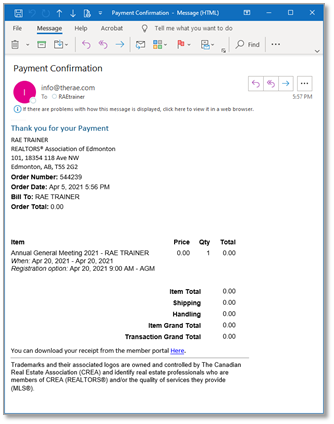 *** IMPORTANT NOTE ***

If you did NOT receive an email receipt you are NOT registered for the event. If you tried to register and did not receive a receipt, please contact the Member Services Hub at MembersHub@theRAE.com or call 780-453-9393 immediately.
2. Zoom Webinar Access
To host the meeting, the RAE will be using Zoom Webinar. Registering on the member portal will add you to the webinar registrant list.
Zoom meeting link, like the one below, will be sent approx. one hour prior to the meeting start time and you should be able to join the meeting shortly thereafter.
You will not have a registration ID. All you need to do on the day of the event is click Click Here to Join in the email or calendar event.
DO NOT SHARE THIS EMAIL WITH ANYONE!
Only one person will be permitted to access the event with this link. It is specific to you.

Add to your Calendar
You can also add the event to your calendar by clicking on the calendar link applicable to the program you use in the email confirmation. The calendar event will also contain your specialized Zoom link.
During the Meeting
Do you want to speak?
To speak, you must have a microphone on your computer or headphones with a microphone attached. You will be muted upon entry and your mic will be unmuted when it is your turn to speak.
You will receive a Zoom notification to Unmute yourself when it is your turn.

Use the raise hand button (see below where to locate the button) to indicate you wish to speak.
Do I need to have a camera for Zoom?
No. Members will not be able to use their cameras. The camera is reserved for the presenters and other speakers.
Zoom Window
At the bottom of the Zoom window, you will see the option to adjust your audio settings (A), chat with technical support (B), raise your hand to speak (C) or leave the meeting (D).

*** IMPORTANT NOTE ***
Use the Chat function for Zoom Technical Support only.
If you require additional assistance, please contact the RAE Tech Helpline at: Email | Chat Online | Call 1-(877)-573-6165
Mon. - Fri. 7 am to 6 pm and Sat. 7 am to 3 pm (Mountain Time)
3. DOTS / Simply Voting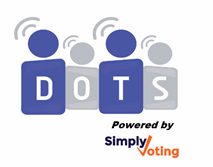 Voting during the AGM will be hosted by Data On The Spot (DOTS) powered by Simply Voting.
DOTS is a Canadian, family-owned and operated business for over 13 years. They are the leading provider of audience response technology (digital clickers) in Canada and have serviced thousands of AGM and Annual Business meetings over the world. The DOTS voting platform is powered by Simply Voting. Simply Voting, another Canadian company, has been vetted and authorized by Elections Canada for municipal and federal elections. It was also recently used in the RECA Elections. The data storage servers are located in Canada.
In collaboration with Simply Voting, DOTS offers secure and seamless voting for virtual meetings.
How does DOTS ensure our members know how to vote?
Every event will have a DOTS Election Manager and Support Technician to ensure that all registered voters receive their voting credentials. Voting credentials will be issued by DOTS, not the Association.
You will be contacted up to four (4) times in the week prior to your event to ensure that you are properly set up. The first contact will contain your voting credentials and prompt you to participate in a test vote. The test vote will verify your connectivity and credentials and ensure that you are familiar with the voting process.
Subsequent contacts will be limited to those who have not yet participated in the test vote.
A final attempt will be made to contact those votes who HAVE NOT tested their credentials on the day of the event.
What if multiple people try to vote with the same voting credentials?
Only one vote can be cast per Elector ID and password. DOTS will continuously monitor the credentials to see who has voted, and who has yet to vote.
Using DOTS and Zoom Together
During the AGM, you can use your phone or a browser on your computer to vote. We suggest watching the AGM on your computer and use your smartphone to vote (Option 1).
See below for the options or watch this video.
Option 1: Watch on your computer and vote on your smartphone
Watch the AGM using Zoom on your primary device (i.e. laptop/desktop) and vote directly on the second device (i.e. smartphone).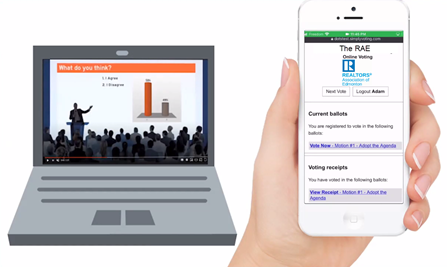 Option 2: Watch and vote on your computer
Join the Zoom meeting and then open a browser window and go to the voting site.
To use split-screen in Windows 10 drag an open window to the left or right side of the screen. This will automatically 'snap' that window to take up exactly half of the screen.
If you have other windows open at the time, they will appear as smaller thumbnails on the other half of the screen, at which point you can click the one you want to fill that half.
On an Apple Device? Learn how to split the screen with the following Apple Support videos: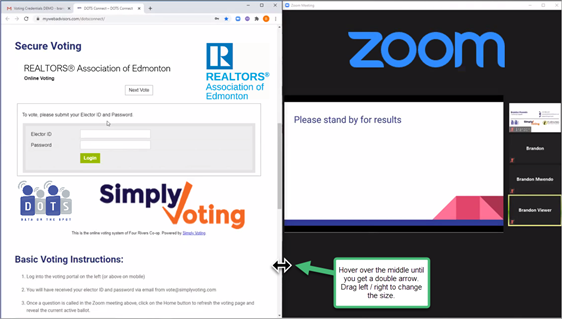 Option 3: Watch and vote on your smartphone
Watch on the Zoom app on your smartphone and switch to your browser when voting is taking place.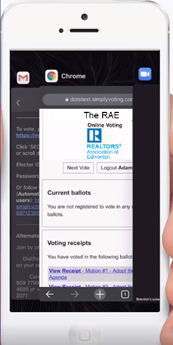 4. System Requirements
Which device should I use?
Ideally, you should use a desktop computer or a laptop computer, not a mobile device (due to the smaller screen size).
For details on Zoom System requirements visit:
What kind of internet connection is best?
The presenters and presentations will be streamed to you in high-definition (HD) and support high-quality (HQ) video. As a result, it is important to have the best internet connection possible. A highspeed internet connection is required. An Ethernet (wired) connection is preferable to a wireless connection. The router should have a minimum of dedicated (not shared) 5Mbps download speed.
For the list of required bandwidths for Zoom visit:
First-time Zoom Users
Zoom is FREE to download and you don't even need to sign up for an account to join the event!
Watch this short video tutorial on downloading Zoom to join a meeting.
Test your system by joining a Zoom Test Meeting.
5. Prepare for the Virtual Event
We want to ensure all members are familiar with and confident in using the platform the RAE will be using for the upcoming Meeting.
You can also test Zoom by joining a Zoom Test Meeting.
Don't forget to read the Full Meeting Package and view the meeting materials in advance on the Member Portal.