Contact Activity Widget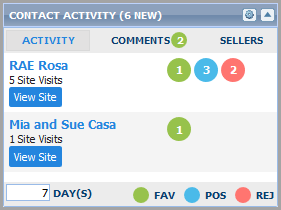 This three-tab layout is designed to provide direct access to client activity from the Collaboration Center.
Up to 50 records will display on each tab. The header links to the Contacts > View/Manage Contacts activity page to view all recent activity here.
Use the Days Back selector to view activity up to 30 days back. Use the Edit Widget tool (

) to set the Default Days Back from 0 to 7 days
New Activity
To view all activity for your contacts, including contacts set up on email notifications, click on the widget's header. Click the # New to open the Contacts Manager and automatically filter it to display all new activity.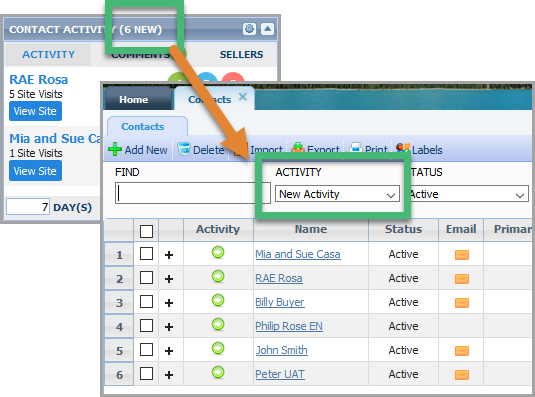 ---
Activity Tab

On the Activity tab, will display the contacts that have viewed their Collaboration Center site within your specified days back. They are displayed by most visits to their Collaboration Center site.
Each record will display the contact name with the number of site visits, so how many times the client has viewed their collaboration center within your specified days back.
Click the Contact Name to view the contacts Contact Activity page. Here you can view a further breakdown of the contacts views per saved search or view their contact information page.

Click View Site to open that Contact's Buyer Activity tab in Collaboration Center.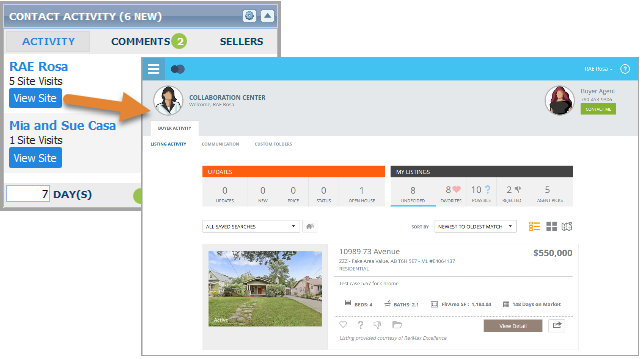 Next to each Contact is a link to the Favorite, Possible, and Rejected listings they marked in the specified Days Back.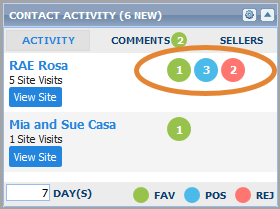 Click the numbers to view those specific listings in your Paragon spreadsheet view.
Comments Tab
The Comments tab displays comments made on listings by the Client in the Collaboration Center. The comment will remain visible on the widget (within the selected number of days back) until you reply.
The display includes the Contact name, the Listing ID # and Address for the property, and the Comment.
Click the Listing ID # to see the default Listing Detail report.
Click Reply, to open the Manage Comments pop-up window to view the entire comment and reply to the Contact
---
Sellers Tab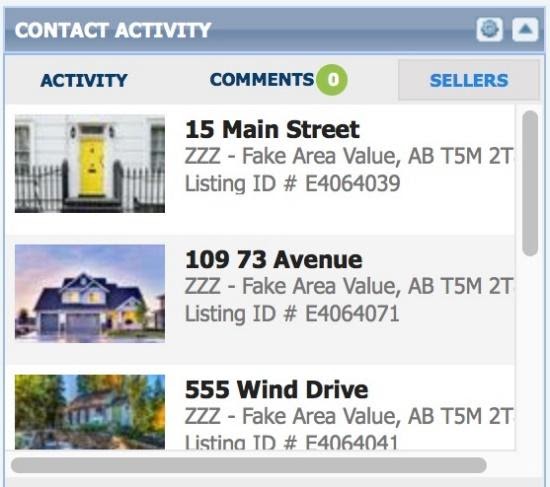 The Sellers Tab of the Collaboration Center focuses on your clients who are looking to sell their property and contains activity tracking information.