Your Agent Profile Account Information
To update your personal details via the Member Portal
Once you are logged into the Member Portal, click on the "My Account" dropdown menu in the top right corner, then select "My Profile".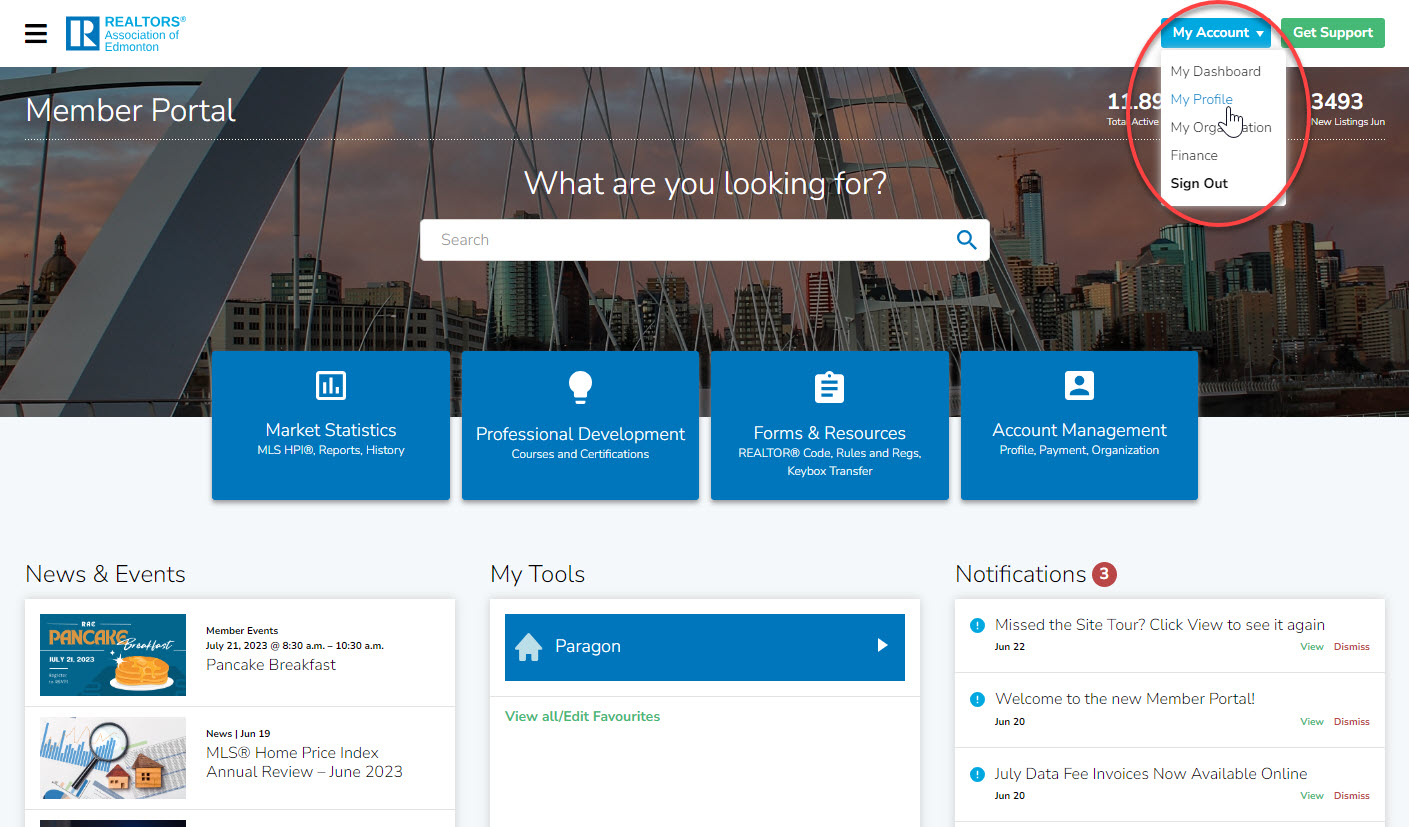 From the page that opens you can access your account information and edit many of the fields. We will go through them section by section.
You can edit the information that has a box around it. If there isn't a box around it please contact membershub@therae.com to have it changed.
Personal Details: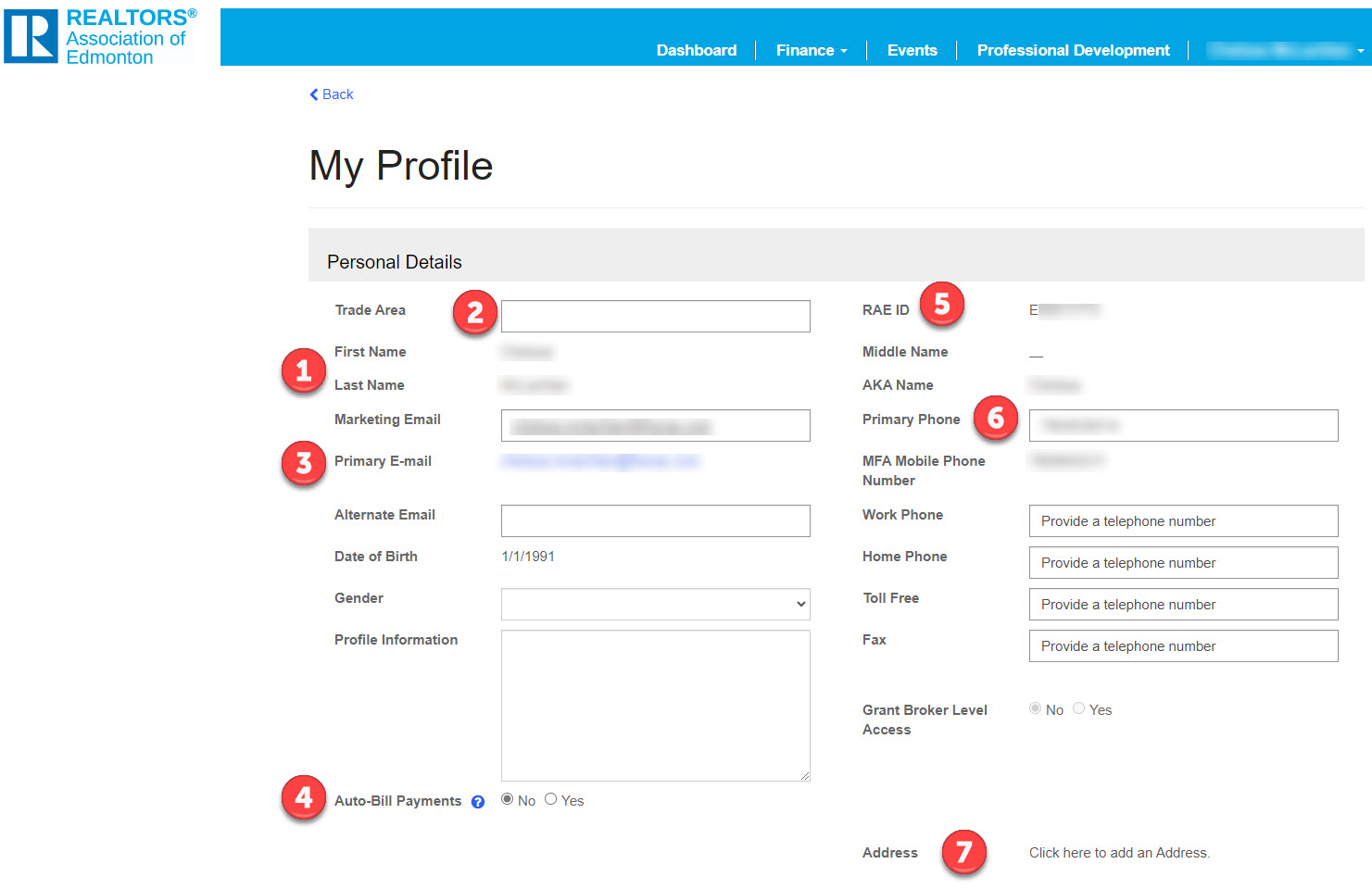 1 - Shows your name.
2 - Trade Area is where you do most of your business.
3 - Email section:
Primary Contact Email (required)

This is the email address that is used by the RAE (REALTORS® Association of Edmonton) for notices and copies of invoices and receipts

Marketing Email (required)

This email address is what is used by all third-party applications. This is the primary email address for Paragon and also becomes part of the data that gets sent to CREA and all other applications.


NOTE: If you change your marketing email you will need to reverify your email address in Paragon by following this link.

Alternate Email (optional)

You can have a backup email address to your Primary Contact email and duplicates will be sent to this address
4 - Here is where you can turn on the auto-bill function if you have a credit card stored to your account. Auto-billing happens the last Friday of the month and if you choose this feature your outstanding payments will be charged to your credit card that day.
5 - This is where you find your RAE ID.
6 - Your primary phone number can be changed here. You can add Work/Toll Free/Fax numbers as desired in the fields below.
7 - Your address can be entered here.
Membership Details:

8 - Your Membership details can be found here including your username, CREA ID and whether or not you have Brokerload access.
Social Media:

9 - Social Media Links are also visible on REALTOR.CA as well as on Paragon.
Once uploaded you will see shortcuts appear on this profile page as well (see example below):


IMPORTANT: The URL that you upload must be the complete URL of the specific site you are referring to. The full URL is needed for all the social links on this page.

Facebook must be: "https://www.facebook.com/your.name"
Please ensure you do not just put "facebook.com/your.name"
Instagram must be: https://www.instagram.com/yourname/
Please ensure you do not just put "instagram.com/yourname"
YouTube must be: https://youtu.be/ViDeOcodeDirectLiNk
Please ensure you do not just your channel link as it will not work properly
For Members, the YouTube video this link will be the "About Me" video on your public profile page.
For Brokers, the YouTube video will be the "About Us" video on the public profile page.
LinkedIn must be: https://ca.linkedin.com/in/yourname
LinkedIn links should be reformatted to replace www. with ca (see above example). Doing this ensures that non-LinkedIn users can still look at your public page.
Languages/Specialties/Designations/Committees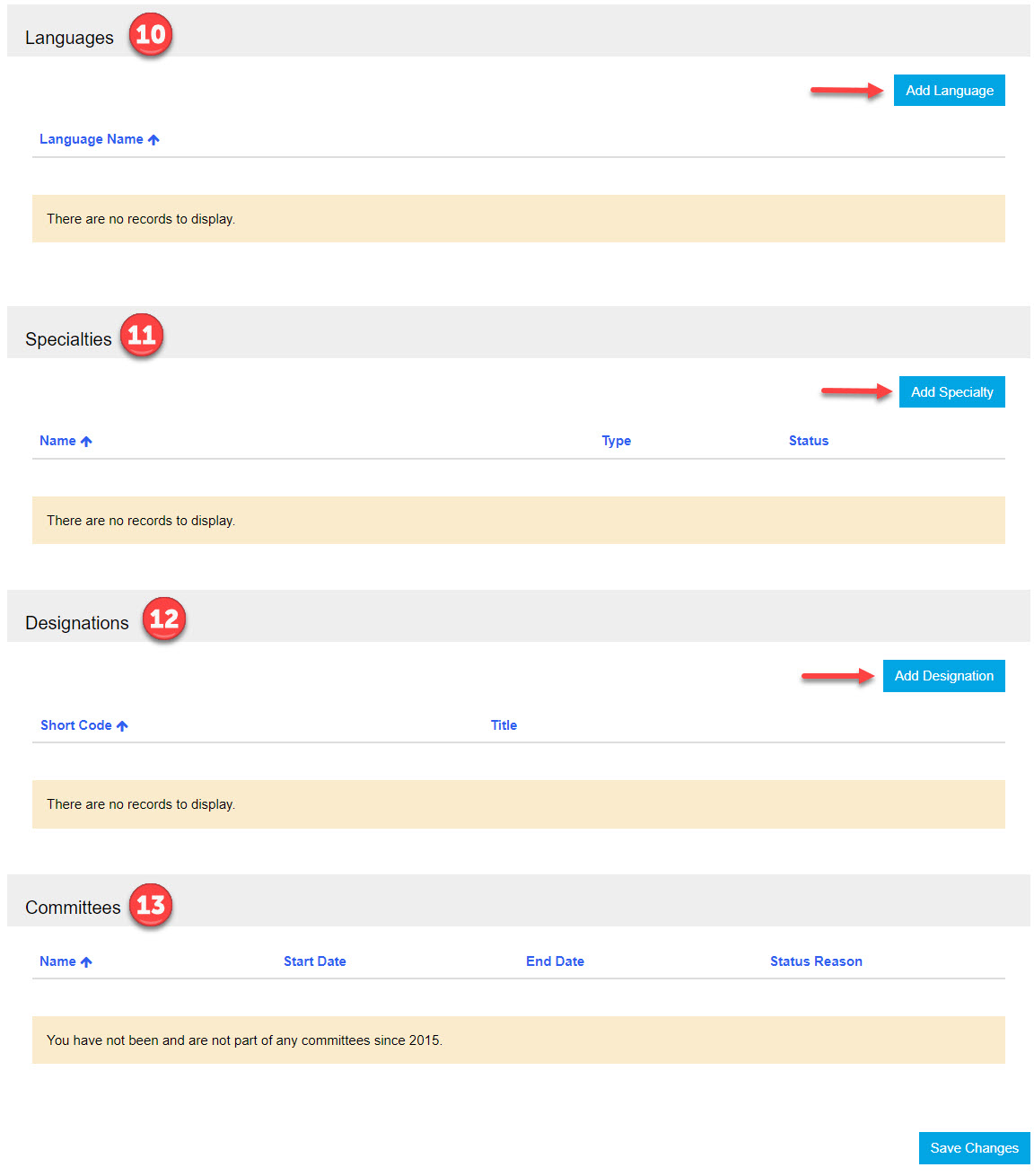 10 - Languages - Click the blue box on the right that says "Add Language" to add the languages you speak.
11 - Specialties - Click the blue box on the right that says "Add Specialties" to add your specialties, you can add up to 3 specialties.
12 - Designations - Click the blue box on the right that says "Add Designations" to add the real estate designations that you have earned.
13 - The Committees section shows any committees that you are a part of.
This information becomes part of the members profile on the public REALTOR.ca website as well as becomes part of the DDF (Data Distribution Facility) which is the data feed that gets sent to your and your companies' websites.
The SEO on the REALTOR.ca website will help to get all of your information more searchable.
NOTE: Your member information gets uploaded to CREA multiple times a day.
To complete your profile you will also need to update your photo for REALTOR.ca
After you have updated your primary profile information on the Member Portal you also need to update your photo on REALTOR.ca
Click here to learn how to update your picture on REALTOR.ca