When you Copy/Clone a listing, it copies all fields, except legal, measurement and multi-select fields, from a selected listing to create a new listing. This enables you to add similar properties quickly into Paragon. This works especially well when inputting condominiums, townhouses, lots or land, lots in a subdivision with a common developer, etc.
NOTE: You can only Copy/Clone a previous or current listing if you are the first Listing Agent at the same Brokerage or the Broker/Manager for the Listing Agent.
Step 1 - Click on Listings on the navigation menu bar. Click Listings under the Maintain column.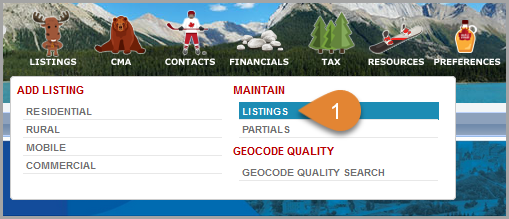 Step 2 - To find a specific listing, you can search by the Listing ID# (A), the Address (B) and/or Status (C) and click Search to display only that listing.

Step 3 - Click Select an Action on the row of the listing to which you want to Copy/Clone.

Step 4 - The Select an Action window will appear, click on Copy/Clone Listing.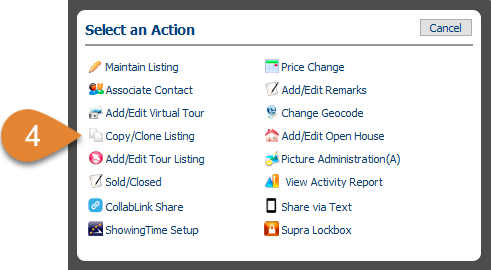 Step 5 - The Listing Input screen will appear. Fill in the remaining required fields and edit any of the fields as needed to reflect current information about the property and click Save.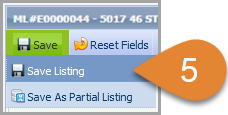 Step 6 - A pop-up window will open, you can select if you want to copy the Picture(s)and/or the Photo Label(s). Click Copy.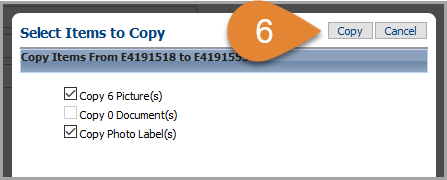 Step 7 - When the listing has been successfully saved to the system a pop-up message will open. Click Continue Input (A) to remain in the Listing Input screen or Finished (B) to return to the Listings screen.