Do you want to replicate The RAE Member Portal Daily Stats in Paragon for yourself? The following steps will walk you through generating your own daily stats.
Click Search, then click the desired Class.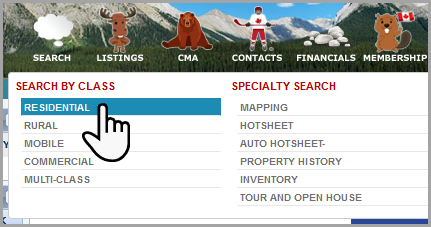 Select Property Class and/or Building Type using the table below.
Select the desired time range using the Status Date for Sales, Inventory, Sales volume, Average Sales Price, and Input date for New listings.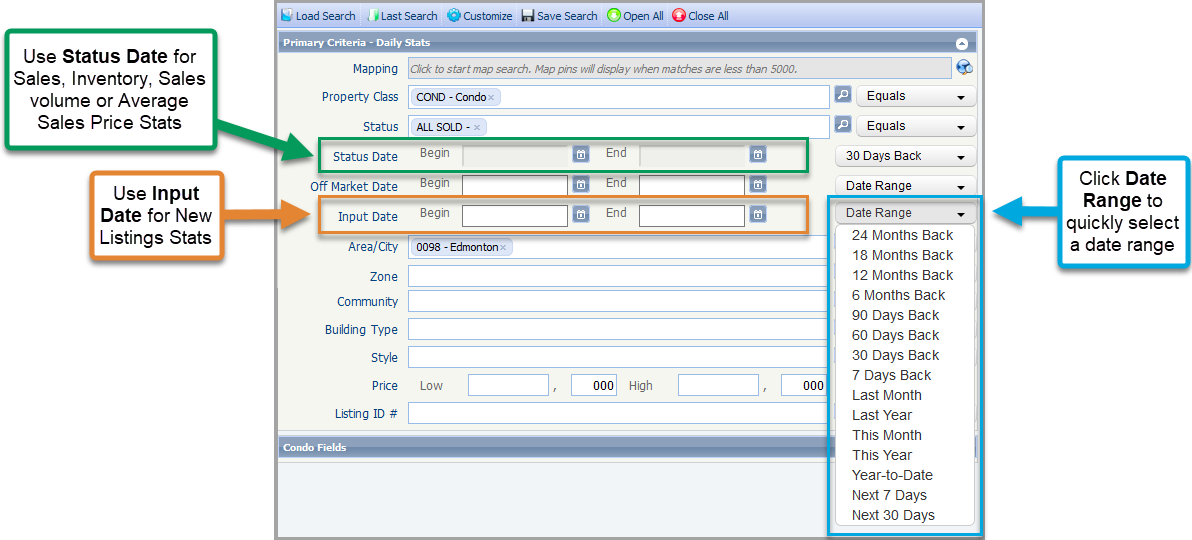 Class

Property Class

Building Type

Residential

Single Family

Detached Single Family and Manufactured Home

Residential

Condominium

Not a Parking Stall, Vacant Lot or Cottage

Residential

Single Family
(Duplex/Rowhouse)

Residential Attached, Townhouse, Half Duplex, Tri Plex, Duplex Side by Side, Duplex Up and Down

Total Residential

Residential and Mobile

Rural

Country Residential
(Acreage with Home)

Rural

Rural Land/Vacant Lot
(Vacant Acreage and Recreational)

Rural

Country Recreational
(Recreational with Home)

Mobile

Mobile

Commercial

Land Commercial
(Land)

Commercial

Industrial, Institutional, Office, Retail (Investment)

Commercial

Multi-Family Commercial
(Multi-Family)

Commercial

Business with Property with Minor Business Type = Hotel/Motel
(Hotel/Motel)

Commercial

Business, Business with Property

Commercial

Industrial, Institutional, Office, Retail
(Lease)
What is Edmonton CMA?
The Census Metropolitan Area (CMA) is a metropolitan region specified by Statistics Canada that, locally, includes the City of Edmonton and all the municipalities located in the counties of Strathcona, Parkland, Sturgeon and Leduc. See below for the complete list.
Edmonton
Beaumont
Bon Accord
Bruderheim
Calmar
Devon
Fort Saskatchewan
Gibbons
Leduc
Legal
Morinville
New Sarepta
Redwater
Sherwood Park
Spruce Grove
St. Albert
Stony Plain
Thorsby
Wabamun
Warburg
Rural Leduc County
Rural Parkland County
Rural Strathcona County
Rural Sturgeon County
Check this article on how to access The RAE Daily Stats.