What's Changed?
Stats have always been a point of discussion over the past few years as the industry has evolved. Looking at where the industry is heading and establishing standards such as RESO, it was time for us to start exploring what better we can do to the Association's stats reporting tools.
The goal is to assist members to make better business decisions by providing them with the latest market stats with updated stats categories that are more industry relevant and granular.
As of February 1, 2023, the existing residential classification (Single Family, Condominium, Duplex/Rowhouse) has been replaced by more granulated building type-based categories. (Detached, Semi-Detached, Row/ Townhouse, apartment condominium, and others).
Which stats reports and tools have been impacted by the change?
Where can I find updated stats?
Go to the Member Portal.
Click on the Market Stats tab.
Click on one of the placeholders to see specific stats.
Previous stats packages can be found here.*
*Previous stats packages will not align with the new classifications. However, moving forward, data will be historically adjusted up to five years.
Please Note - Rural stats on the older statistics packages/reports have been adjusted into the newer classification based on their building types.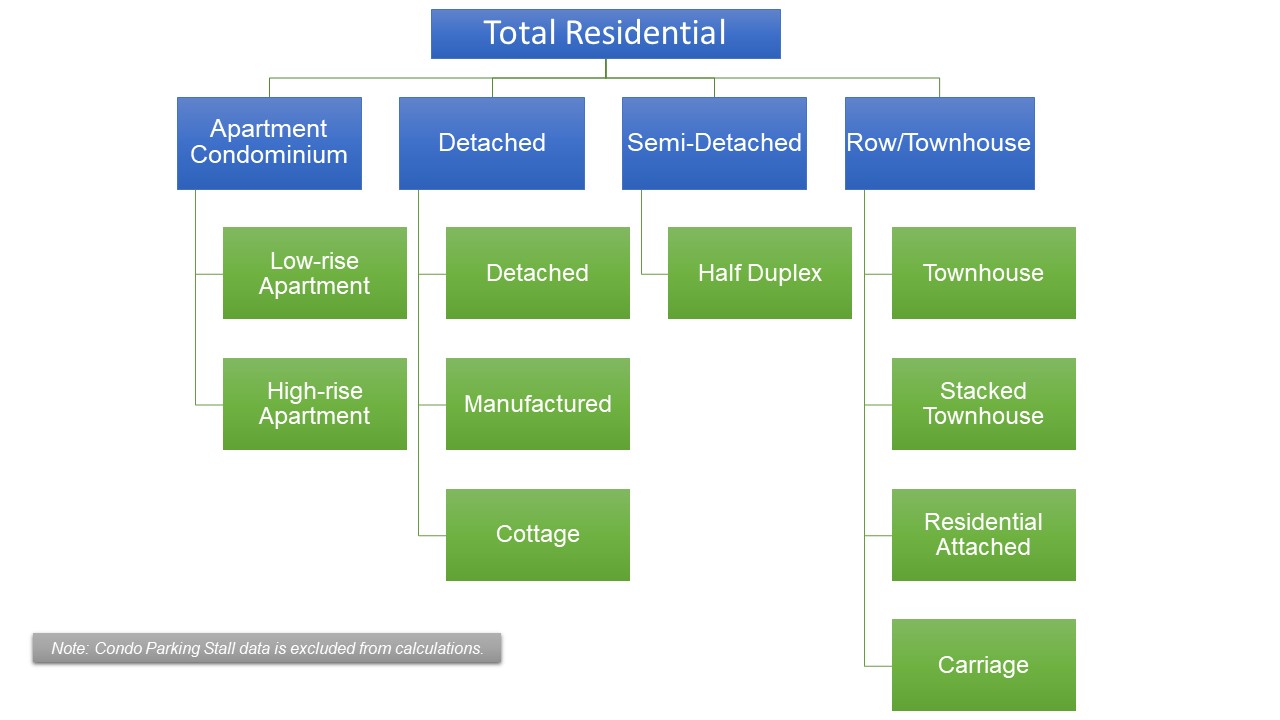 Why the change?
Streamlining our statistical Reporting
As the real estate industry has evolved, provincial and federal organizations have established standardized way of reporting stats. Many associations across western Canada have already adopted the change. Thus, a new classification has been selected to align the association market reporting with our organized real estate partners such as CREA, AREA, etc.
For our members
RAE is committed to providing real value to our members. One of the top priorities of the association is to ensure access to the (core) tools that our members need to do their business through the association and support members to embrace innovation and technology that strengthens their relationship with consumers.
With our stakeholders
The approach will strengthen our relationships with other industry partners such as AREA, CREA, etc. and promote collaboration and leverage our collective strengths to move things forward for REALTORS®.
Approach toward more Granular Reporting
With the growth in the housing market and the development of different styles of residential homes, it is the right time to post stats on more granular categories by replacing the existing residential classifications which will bring a lot of value to members.
How will the change help membership?
Adopting a centralized method of reporting will make it easier to interpret the changes in the industry holistically. Comparing apples to apples will help members to make better price estimations, generate comparable reports, and foster innovation around more structured methods.
The new reporting structure will better align our association's stats with other organized real estate partners and international standards.
Providing numbers in a more expanded (granular) format will help members understand the market, make better estimations, and run their businesses efficiently.
Note: This does not change how you search in Paragon. If you would like to replicate these stats search by Building Type under a multi-class search.